2 v 2 battles are coming to Mage Noir!
We gathered your feedback, we've listened to you, and the results are clear. A lot of you want more players during your games, more mayhem and more Mages to unleash your spells on!
Which is why we're very happy to announce that we will create a 2v2 mode for Mage Noir on tabletop! Featuring awesome new mechanics like the Shared² Mana pool and Mage Noir retaliation!
And…it will be free! We'll develop this mode as a free add-on, playable with just one core game of Mage Noir to start with.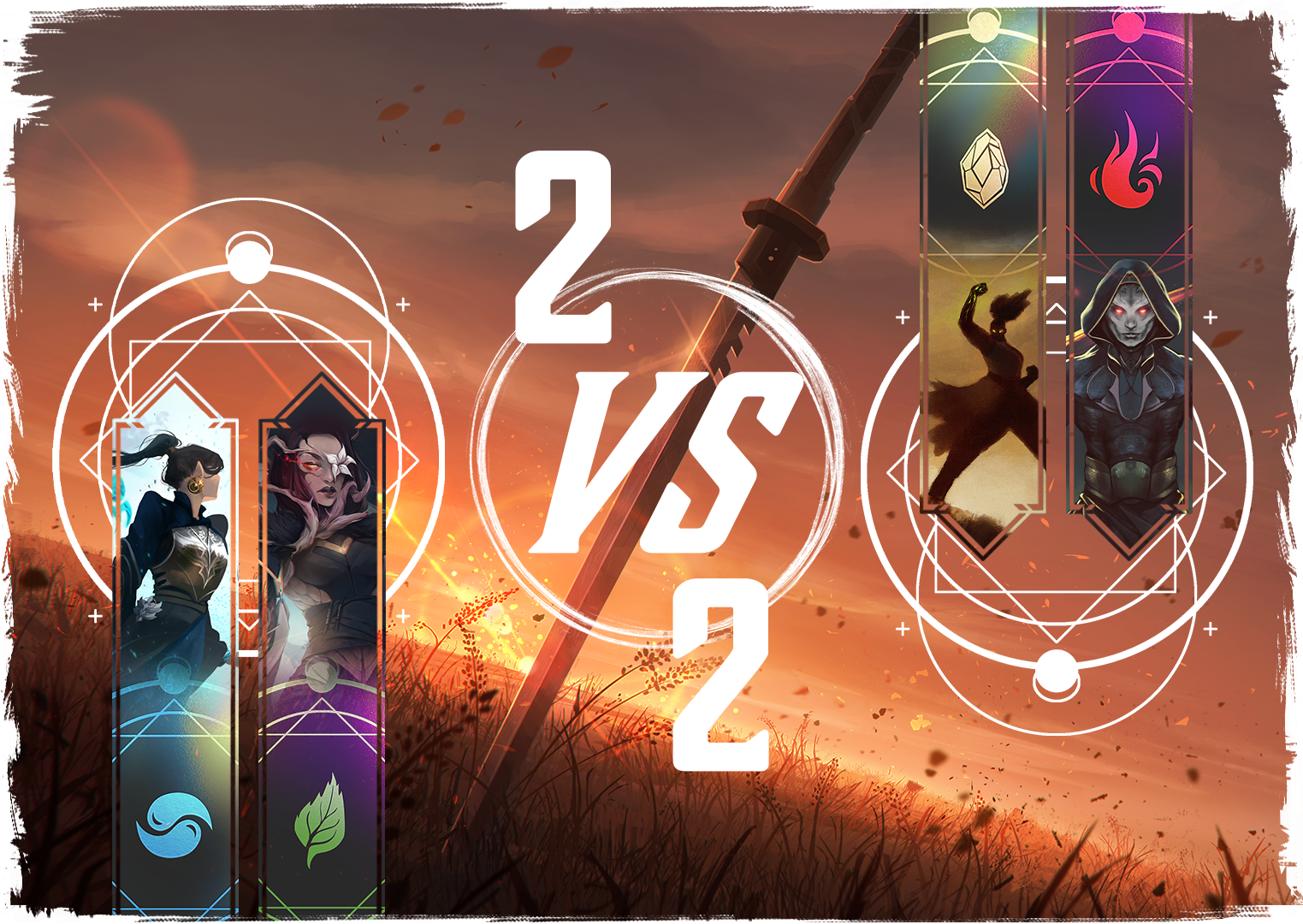 The basics
Two teams of two players face each other, each team on its own side of the table
Each player has their own Health Points
The order of turns is simple: Player 1, Player 2, Player 3, Player 4, when P1 and P3 are on the same team and P2 and P4 on the other team
The game is won when both players of the opposing team are KO'd (either by getting to 0 HP or drawing from an empty deck)
Most other rules are the same as in 1v1: each turn the player draws 1 card, adds 3 Mana to the Available Ether, chooses one of the two piles in the Available Ether…
And then the new mechanics…
The Shared² Mana pool
Also called the "shared shared Mana pool", this is the mechanic we're using to handle our Mana system in a 2v2 environment.
During your 2v2 game of Mage Noir, the Mana system will not change at all, except for one tiny detail. Each team has a single Mana reserve shared between its two members! How will you adapt your duo of decks knowing this? Will you create a deck with very high Mana costs alongside a low maintenance deck to boost it or will you create 2 balanced decks in terms of Mana costs? And what about the elements you'll use? Will you both go all out on a single element or try a mix of many to make sure you have a use for everything?
Even more options, more possibilities and more strategies to discover!
The Mage Noir retaliation
But that's not all! In this game mode, each player will have their own health points. This would encourage you to focus on one opponent with your teammate to create a 2v1 situation as soon as possible.
But here's the twist! If the surviving player is a Mage Noir, they will get twice as many turns, giving them a last chance to retaliate and allowing for spectacular comebacks.
This mechanic will encourage players to become Mage Noir if they are not targeted, making them much more of a threat and forcing the focus onto them in the end.
Once again, this will require teammates to adapt and synchronize. Giving this fun game mode even more possibilities.
It will be free and it will come soon!
To start with, we'll release the complete and definitive rules of the 2v2 mode on our website as soon as it is ready, shortly after the end of this campaign.
We'll take the time to playtest it a bit more (and we'll need more people to help with testing this time!).
You will also get a printed sheet with the rules along with the stretch goals (for eligible pledge levels).
Although, with the amount of information we just gave you, you could even test it right now if you have the core game with you.
Just a single core game can be enough to play 2v2, although to give players as much deckbuilding freedom as possible, we recommend playing with at least 2 core games for 4 players. This will allow a lot more deck diversity and strategic possibilities.
Of course, each player building their own deck with all possibilities regardless of what other players want to put in their decks is optimal, but you already get to experience a lot of possibilities with just 2 core games between 4 players.
We're still open to feedback
We're creating this game mode because we really want to, but also because you really want to play it.
These are the main ideas, but they are not set in stone. Let us know if you have any feedback or can think of anything you'd love to see in this mode!