Weekly update, January 28, 2021
Hey Mages! How are you doing? We hope you're enjoying 2021 so far. Before you say anything, of course we've noticed we've been skipping weekly updates a bit lately. And it's perfectly normal. This year's kickstarter is a big level up compared to the last one. We're just getting a bit slower on the weekly updates to have more time for an awesome campaign. We hope it's okay for you.
Don't hesitate to tell us if you'd still like some news regularly (Or if you can't have enough of my wonderful writing of course), we can make small weekly updates if you want. Well, less chit chat, more updates let's go!
So what's up since last time?
We're fully focused on preparing the campaign! This includes video reviews, small tutorials, visuals, news, and all sorts of amazing stuff! Aside from that we're cooking up something that also hypes us just as much, we're going back for some game design talks. We enjoy sharing our thought on the game so much, we can't wait for you Mages to read them and hear your opinion.
Neat! So tell us about this campaign.
It's always exciting to prepare a Kickstarter campaign. It's a lot of work to be honest, but it's very satisfying. For the most part, we've been working with Jeffrey Jeanson (Who's name should ring a bell if you have a good name memory and read us regularly) to work on the campaign's visuals. And to be honest, he never cease to amaze us. We always expect great quality from him and he always delivers way better than expected.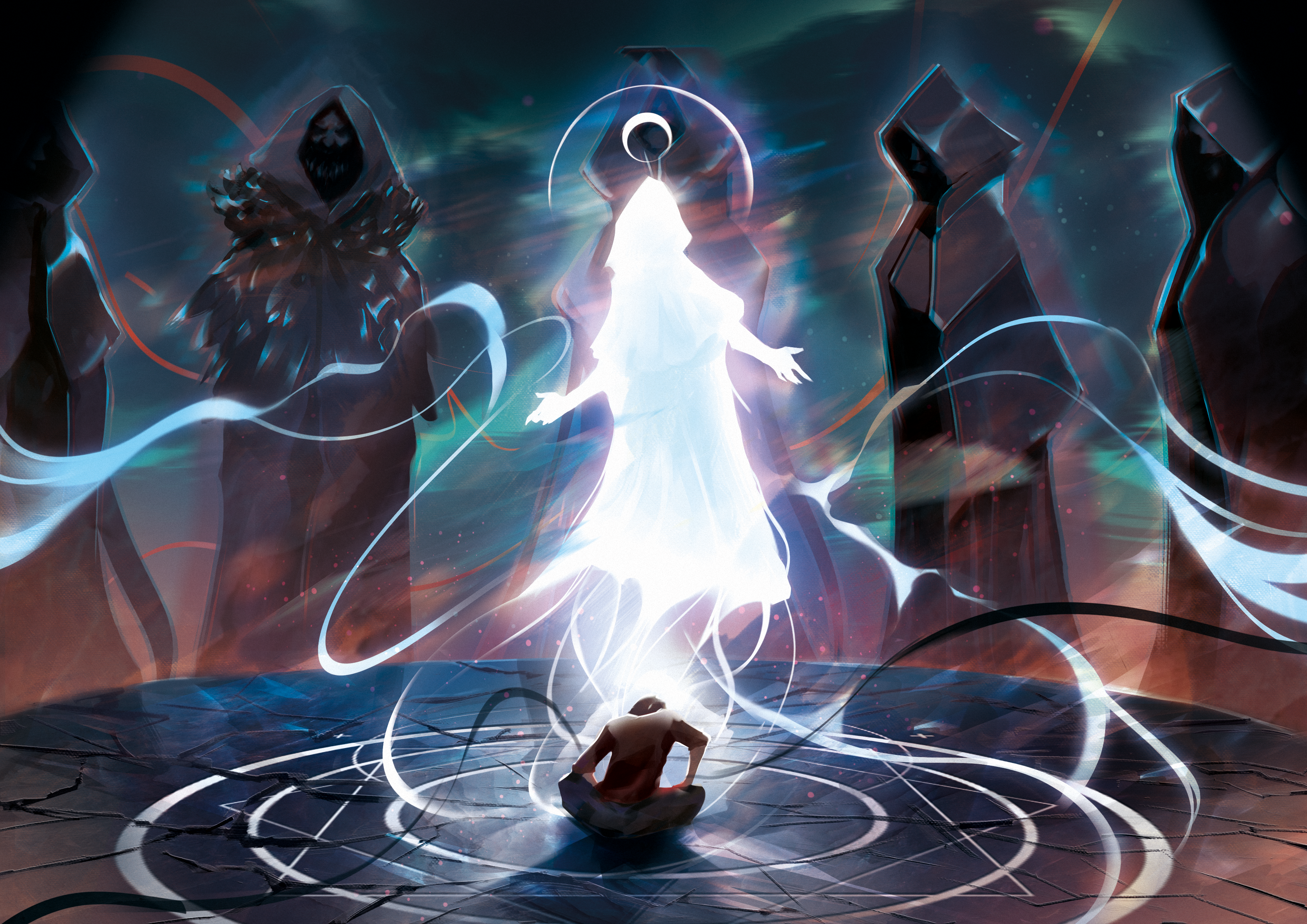 Rite of Passage by Jeffrey Jeanson
Aside from that we're preparing some videos and reviews for you (Well to be precise, we're asking professionals to do so). So we've been exchanging with various media creators to have their opinion on the game. They'll share it with you when the time comes Mages. We're pretty confident that you'll love it!
Game design talks you say?
Yup! Just like last year where we posted some of our thoughts about the whole game with you, we'd like to do the same this year. There will be 6 of them exactly in total. Let's see if you can guess what they will be about.
Quick question Mages
We were wondering, have you ever thought of joining the official discord? It is a neat place to go if you want to chat with fellow Mages, discuss with the team and share your thoughts.
If you ever want to, you're more than welcome in there! As usual when you want to go towards the sanctuary, just follow the circles.

That'll be all for today Mages!
We're going back to writing blogposts, preparing visual assets and writing neat stuff about Mage Noir. Come drop by the discord server and say hi, we'll be happy to chat!
Now until next time, take care of yourselves Mages, and have fun!