Weekly update, November 05, 2020
Hey Mages! Today is a very special thursday. Because it's been roughly a whole year since we started making these weekly updates. (It'll be exactly one year in two days)
What's up since last year?
Oh wow where do I start?
The first notable event is the 2020 Canne's International Games Festival. We were there, we met lots of players and we loved it. We had the chance to discuss and playtest with a lot of interesting people.
Then we followed directly (and by directly I mean litterally 2 days later) with a Kickstarter that allowed us to understand better what you wanted and how we could improve our game. Even if we had to cancel it, we still consider it as one of our biggest successes concerning this game cause it is one of the most important part of the year that gave us a precise direction to take for the game.
And here we are, changing our business model, getting ready for another kickstarter, updating our card layout to make it modern and most importantly preparing a prototype to send to reviewers.
And all of this, while preparing a whole video game version of Mage Noir in parallel. This has truly been a very dense year. Cheers to another one coming our way.
During all this time (or maybe you joined later) you've been reading us telling you what we do and you've been following this weekly update.
From the bottom of our heart, thank you for following us during this year.
And what's up since last week?
We did a lot for the videogame. A whole lot of documents actually. We specified how to improve the game in term of transition and how to make it friendlier for the player.
Aside from that, the paper version is still waiting for some visual assets in order to go on so we made a small pause on that to plan our next tasks.
Okay then so what about the videogame version?
Documents, documents everywhere. We did a whole list of many things in the game that were a bit frustrating to use. It's not complex stuff and it's all functional parts. The only problem is that it's pretty tiring to use for the eyes cause we lack some animations. We want to make sure the action is clear for you and that it doesn't get you too tired. Because for testing the game over and over again, it piles up.
So the improvements can be "Add a transition when going from the Ether view to the field view" or they can be "Implement the draw animation for the opponent too so that we don't see cards popping in their hand randomly".
Now for the paper version
We figured out you'd like to see a bit more of the new layout. So here is how we handle costs, with a new, clearer, more compact way of displaying them.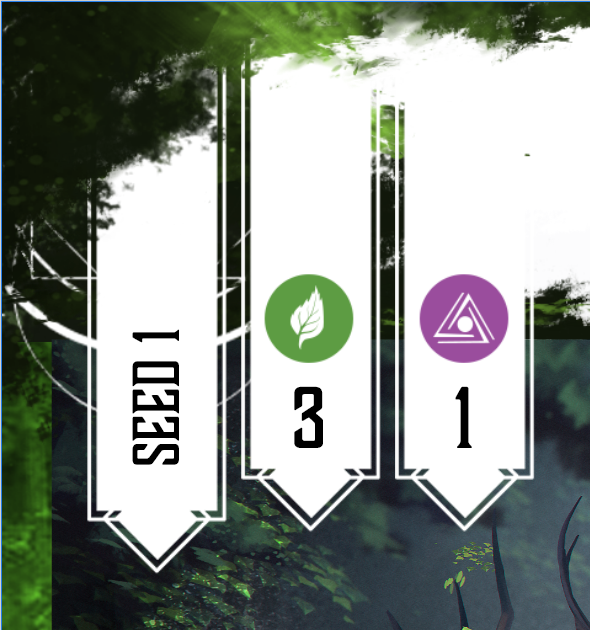 Talking esport
We also guessed you'd be curious about what we talked about during the CIC esports business award. We'll soon create a whole blogpost to tell everything we have in mind for the competitive future of this game. Stay tuned Mages, this will be a blast.
That's all for today Mages!
We'll see you next week as usual. It's been an awesome whole year of weekly updates and we're more than happy to start another one with you.
Until next post though, take care of yourselves Mages, and have fun!