Weekly update, October 29, 2020
Hey Mages! How are you doing today? Ready for the weekly update? Because we are for sure.
What's up since last week?
First, we had our presentation on Friday. We would love to share some results with you but we still don't know how awesome we've been. So we'll tell you straightaway, no info on that in this weekly update. Be assured you'll be the first one to know as soon as we have more info.
Ok now concerning Mage Noir. In the videogame version we worked on all kinds of card effects as well as handling target selection in a more user friendly way.
For the paper version we're starting to implement the new card layout and starting to brew some ideas to rework Arcane in order to make it more interesting.
Let's start with the video game.
"All kinds of card effects you say?"
Indeed. For instance we finished activating other spells but we also worked on other effects such as:
Sending a card back in hand (form anywhere).
Calculating half of another value as the dmg dealt by another card.
Enhancing the damages of another spell.
We also advanced on the target selection in order to make it a bit friendlier to use. Players are now able to cancel their selection if they notice this was not the spell they wanted to activate. We also now have a better looking selection arrow: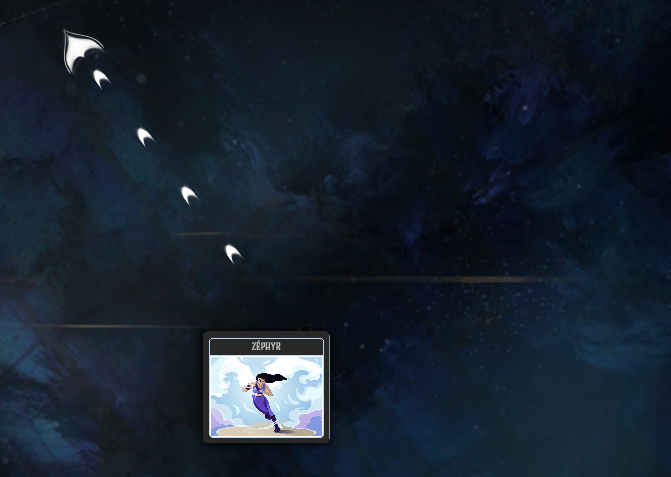 The initial arrow was a premade asset and we're glad we got something else.
Now for the paper version
We are actively working on our usual software to implement the new layout and it's very encouraging. Although it's not finished yet, we have a lot of details to handle. Specific font sizes for some cards, component length handling and most importantly some elements are not ready yet (We need more assets). But we'll soon have a full visual update.
Aside from that we are also starting to brainstorm ideas to rework Arcane. The general concept we have is very interesting and we feel like it's incredibly cool to play. But we feel like the cards can be improved a lot. We would like to make sure it reaches the usual top quality we want for our game. It's very early for now so we don't know what will be kept or not. We'll tell you when we get there.
That's all for today Mages!
What kind of weird stuff would you like to see in arcane? We might not be able to implement it rightaway, but maybe in future expansions who knows? If you have any recommendations for cards and playstyles that would hype you, feel free to tell us.
Until next week though, take care of yourselves Mages, and have fun!