Mage Noir - Infinity, or why we're going for an online version, April 07, 2021
Hey Mages! In our latest stretch goal we announced that every Kickstarter backer of the game would get access to the closed beta of the online version of Mage Noir called Mage Noir - Infinity. Going online for the game was a decision we took very early when we created Mage Noir. We wanted to write this blog post to share our reasoning and excitement with you.
Why go online?
Current context
It is no news to anyone that current events made it sliiightly harder to play tabletop games with your friends.
Having an online version is a great way to ensure you can play with friends (or even with fellow Mages you've not met yet). It is also insurance: a way to find opponents at all times, allowing you to enjoy Mage Noir whenever you want. That way, when the pandemic stops, you'll have experienced quite a few games of Mage Noir and will be fully ready to duel your friends head to head in your local game store or on the kitchen table. (Be careful not to destroy anything with your amazing powers though.)
Esport and competition
Having Mage Noir - Infinity as an online version is also a great way to ensure competitive play, even in a pandemic context. We know that dueling card games such as Mage Noir need a competitive scene to stay relevant in the long run. The current pandemic also put a halt to those competitions, but not for every dueling card game. Of course, competitive play in other digital card games is still very healthy and it is mainly because players can still find opponents and test their skills at any time.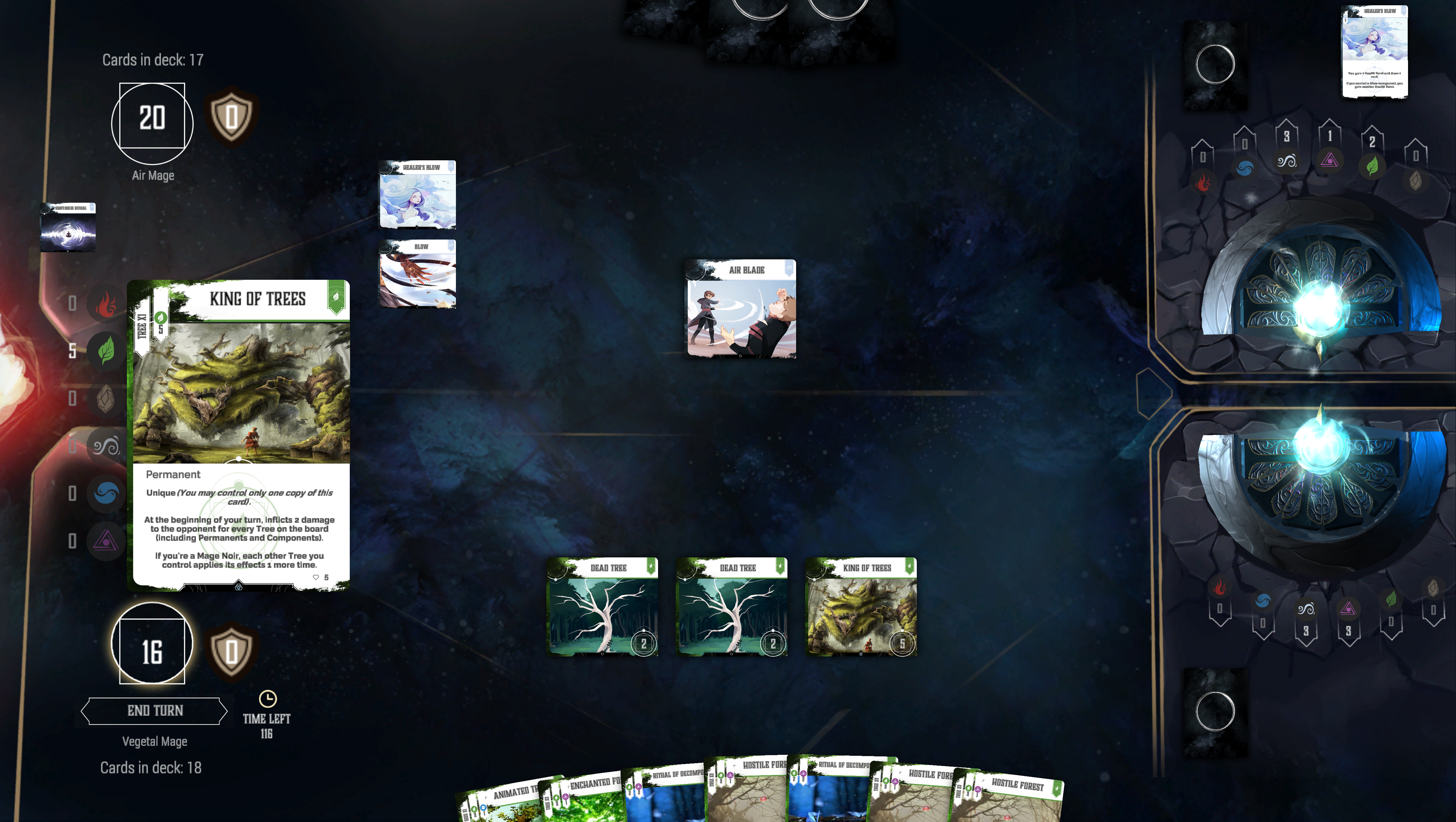 Even if online play is very convenient to ensure continuity in competition, we think being in front of your opponent is very important when the stakes are high. It makes the game you're playing feel more concrete, more important. Plus, it also gives a sense of sportsmanship. You play against a real person that you can shake hands with afterwards.
This is why we think having both a digital and a paper version of the game is the best way to tackle competition.
But that's not all concerning competition! Mage Noir - Infinity will also allow us to filter and find the best players at regional and national levels.
Once these players are filtered, we will be able to organize high level physical competitions involving the best players to make an epic world championship for Mage Noir, on tabletops this time.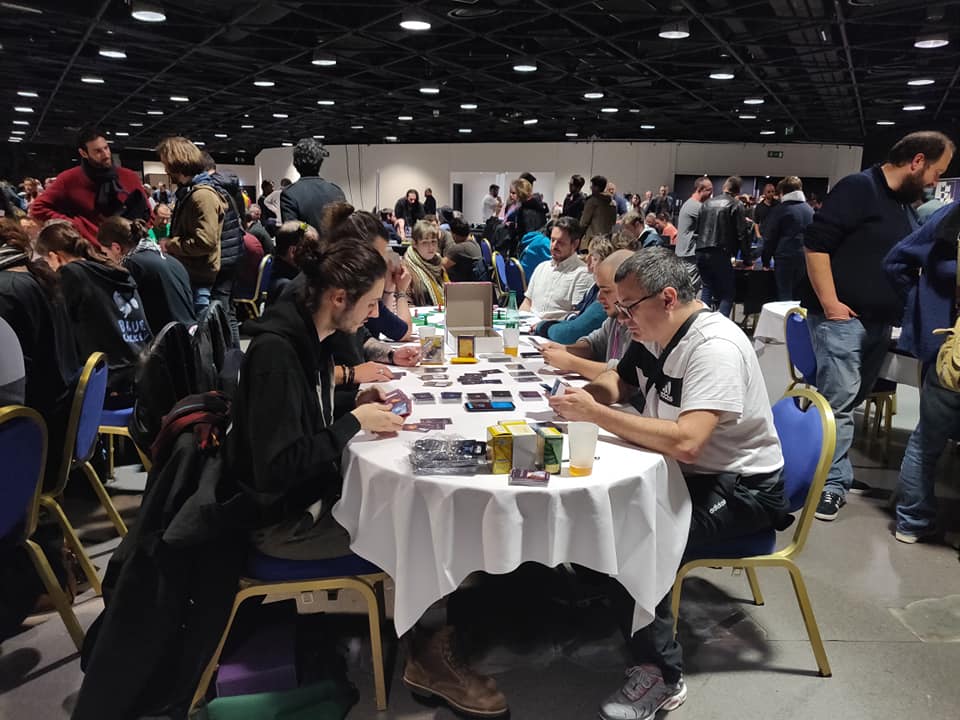 Cross population and accessibility
Some players like tabletop games, some players like online games and some players like both.
We think having the game on both sides of the spectrum is the best way to bring computer game players on the tabletop game side and vice versa. This will also make the game easier to share with your friends who haven't discovered it yet, depending on what they prefer.
This will make Mage Noir a very wide open community and increase the number of Mages you can share your passion with, no matter the way you want to play it.
About the closed beta
So what exactly do you have to know about that closed beta?
Scope
The closed beta of Mage Noir will contain cards from the first 4 elements of the game: Air, Fire, Vegetal and Water. It will contain cards from the base game and will allow you to experience Mage Noir with all of its rules and specificities, exactly like you would with the tabletop version.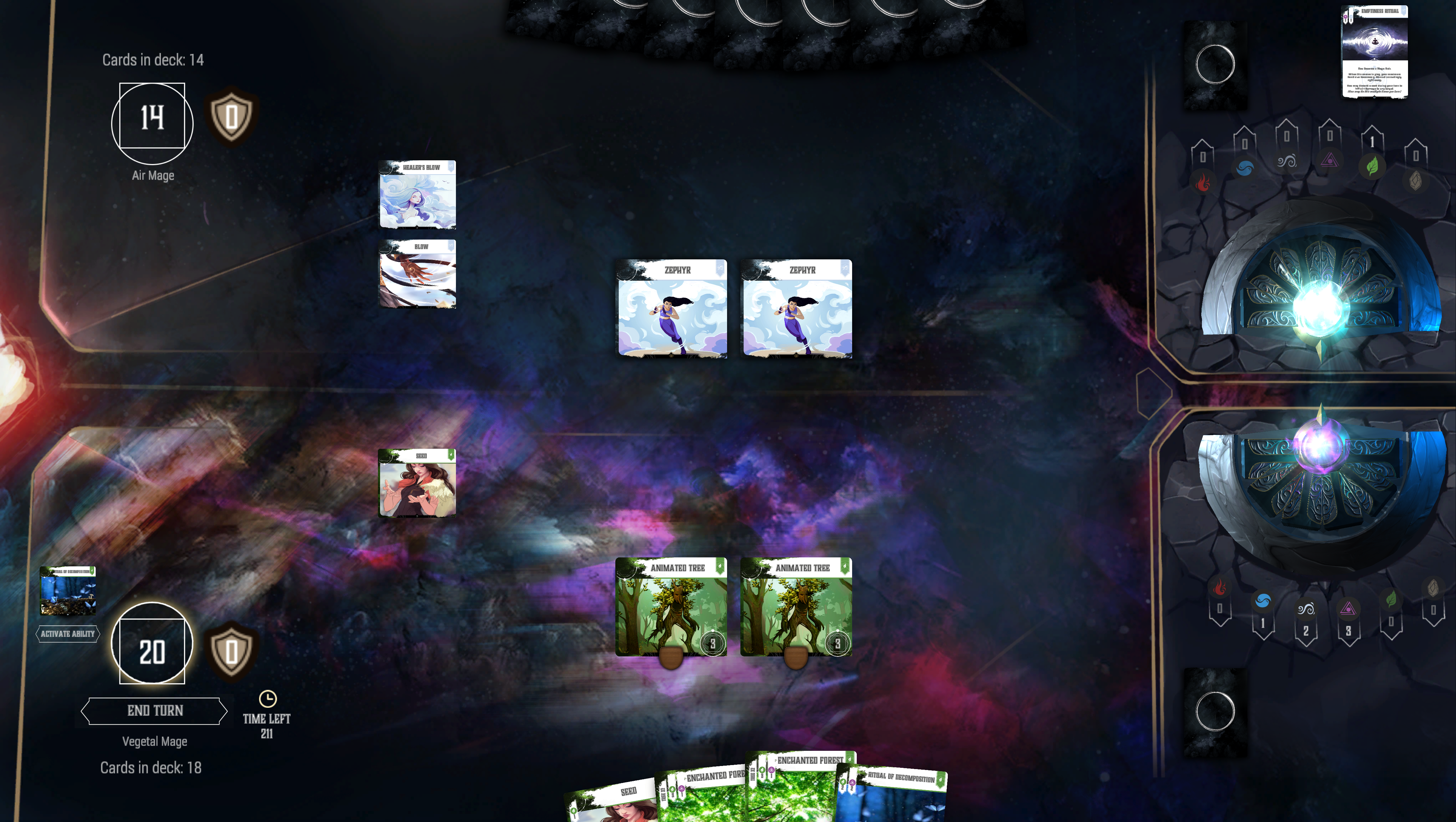 Availability
The game will be available for Windows operating systems on Steam at first.
The target release of the closed beta should be around the time when you receive your pledge rewards.
The available languages will be English and French at first.
After the closed beta for backers, we will open an early-access version
When the game is released and perfect, we wish to make adaptations for mobile and consoles, as well as translating the game into more languages
Business model
Mage Noir - Infinity is free-to-play
There will be ways to unlock new cards to add to your collection. Some of these ways are free (play regularly, make progress) and others are paid
The business model is different from the tabletop version to ensure that as many new players as possible can discover what Mage Noir has to offer
Our intention is that when you purchase a tabletop version of Mage Noir, you can get some rewards in Mage Noir - Infinity, but we have not decided anything yet, since there are technical challenges and logistics issues to face before we can do this
Online gaming is also in our DNA
Another reason why we're developing the online version is because it's part of our DNA as a team. Video games and online gaming are huge passions for all of us and as professionals we come from this field initially.
Everyone in the Mage Noir Team is talented as well as very committed to making this a great game. Each member has their own specific set of skills that we manage to merge together to ensure we provide a high quality experience whenever you play Mage Noir.
We tried playing on third party tools like simulators and specific websites to play Mage Noir online but something didn't click. Simulating a tabletop game is very different from playing it in real life. We think going digital is a very important thing to do, but for it to be successful, we also think it is necessary to fully embrace the digital side of software and use new interfaces to make the game easier and smoother to play.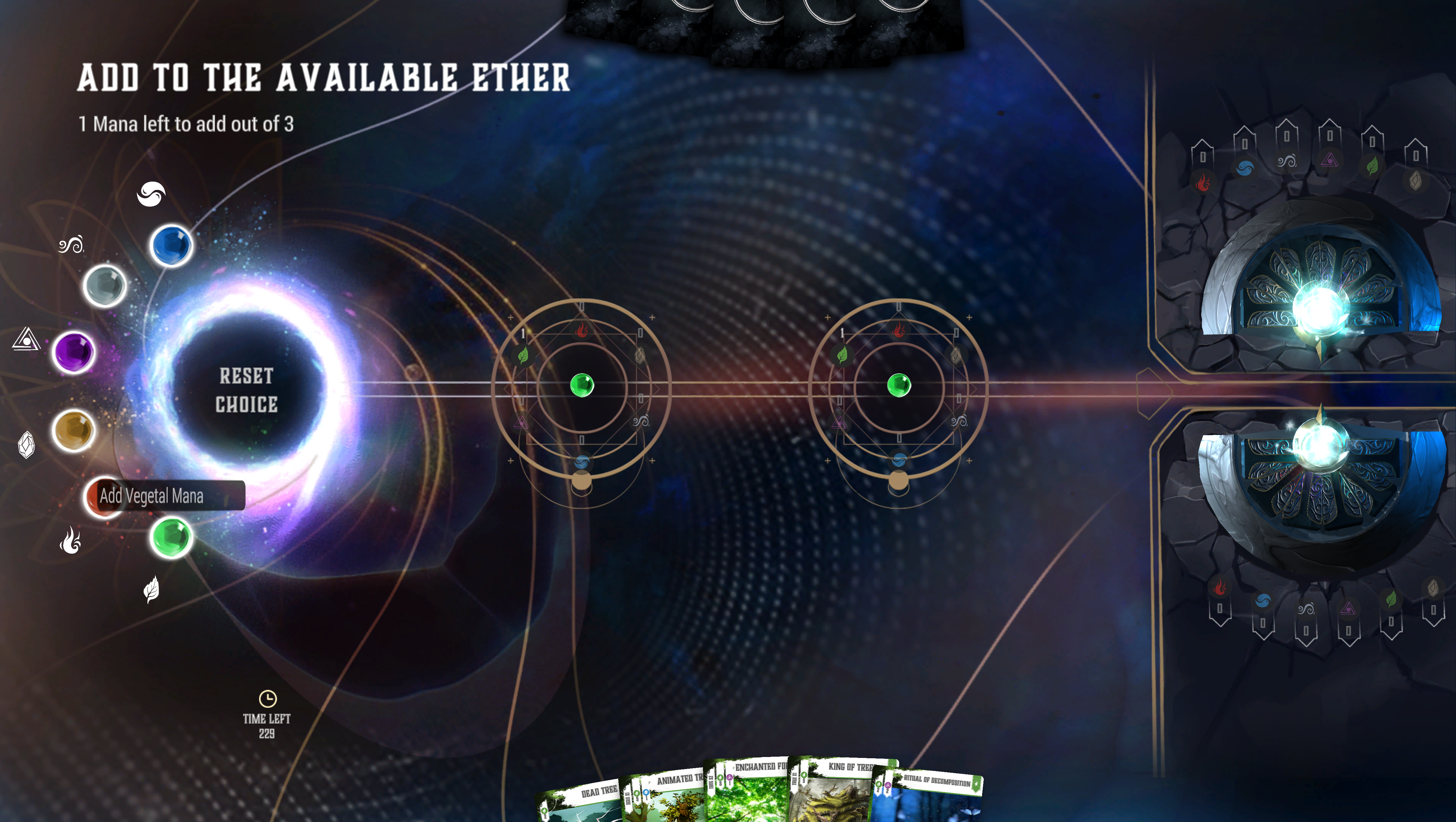 Using our knowledge and experience in User Interface design, we knew going for our own software would give us the freedom to create the exact interface Mage Noir would need to be the best it could be.
We can't wait for you to try it!
We're very excited for Mage Noir - Infinity as it is also a huge part of what we do daily in the Mage Noir team. We sure hope you're as hyped for it as we are. We have a lot of reasons to think this is part of what will make Mage Noir as great as we think it can be.
Until next time though, take care of yourselves Mages, have fun, and we'll see you on the campaign.